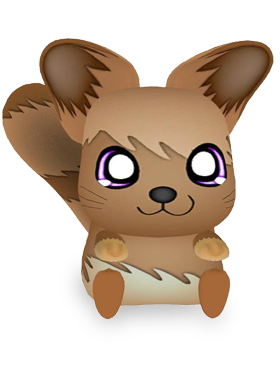 Appearance
Skin Color: Brown
Eye Color: Pink
Face Pattern: Zephyr
Stomach Pattern: Zephyr
Tail Type: Long
First Breeder Achievement
YummySarra Genesis

This Snuffle was first discovered by YummySarra Genesis. Because of this they got the First Breeder Achievement and will always be listed here!
Biography
The Brown Zephyr is a rare Snuffle that was released to celebrate Valentines Day 2013. It was one of the first rare Snuffles to be released after some radical changes to the breeding system during the Open Beta Test.
Maximum Population: 50
SKIN ID: 1029

Every Snuffle Skin has an Unique SKIN ID for Skin Identification purposes.
Trading Status
Production Cost: 22,768 L$ - 12,958 L$

The Production Cost gives an accurate picture of the minimum it costs to produce this Snuffle.

It includes factors like the rate of food consumption, latest prices of food on the exchange and even the estimated prim rental costs for your land.

It's not recommended to sell below the production cost.

If a Snuffle is relatively scarce you can try to get the best price you can above the production cost.
NFT #1029 Owner
None

Snuffle NFT Owner receives 50% from the sales commission whenever a snuffle with this ID is sold between players.
Sales Commissions accrued: 0.00 L$
Total paid out: 0.00 L$
Scarcity: 0.1% (2 / 1,899 total breeders)
This bar indicates the proportion of all players that own this Snuffle.