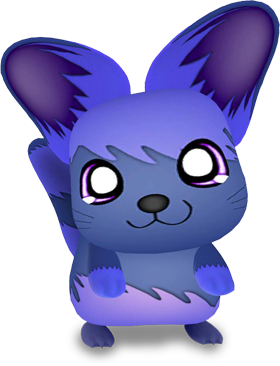 Appearance
Skin Color: Blue
Eye Color: Pink
Face Pattern: Zephyr
Stomach Pattern: Zephyr
Tail Type: Long
First Breeder Achievement
LadyLeona Burnstein

This Snuffle was first discovered by LadyLeona Burnstein. Because of this they got the First Breeder Achievement and will always be listed here!
Snuffle Details
Name: Jason II
ID: 71154

Every Snuffle has a Unique ID which you can see in its object description field.
SKIN ID: 1025

Every Snuffle Skin has an Unique SKIN ID for Skin Identification purposes.
Gender: Male ♂
Owner: roadbargemaster
Biography
The Blue Zephyr was the first ever Limited Edition Snuffle ever released. It came out at midnight on New Years Eve 2012 and commemorated the start of the Open Beta Test. Only 10 were ever released and only 1 female was ever born.
Maximum Population: 10
Trading Status
Price: 50,000L$

This is the price that roadbargemaster has chosen to sell this Snuffle for.

Scarce Snuffles can sell for well over the production costs.
Production Cost: 15,007L$

The Production Cost gives an accurate picture of the minimum it costs to produce this Snuffle.

It includes factors like the rate of food consumption, latest prices of food on the exchange and even the estimated prim rental costs for your land.

It's not recommended to sell below the production cost.

If a Snuffle is relatively scarce you can try to get the best price you can above the production cost.
Scarcity: 0.4% (7 / 1,712 total breeders)
This bar indicates the proportion of all players that own this Snuffle.